We specialize in all types of single-ply, fluid applied, BUR and metal roofing.
We have the experience, equipment and technical understanding to complete most low-slope commercial roofing projects, on time and on budget.  Furthermore, we take pride in our ability to manage the flow of operations to complete jobs quickly and on budget.  We take pride in safety, doing everything we can to keep our workers and our customers safe at all times during the job.  Our technical understanding of roofing and construction means that we anticipate and avoid the difficulties that knock other companies off track.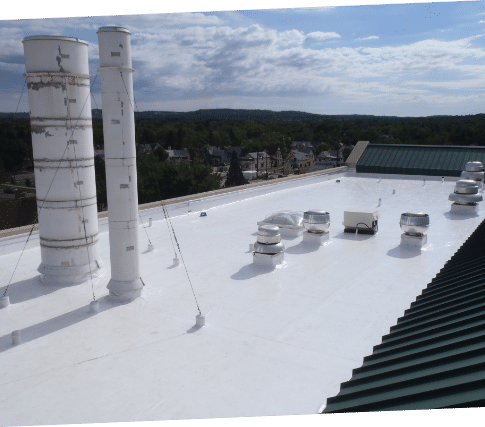 JRC Delivers maximum value with minimum disruption
ReRoofing projects are messy and expensive, and some unexpected problem always seems to crop up.  Buildings are usually occupied, and businesses can't just shut down.  JRC specializes in addressing these difficulties.  We take the time up front to get on the roof, find the problems that others might miss and make a solid plan that avoids most of the hidden pitfalls of reroofing.  Furthermore, we take pride in causing minimal disruption and communicating clearly and succinctly every step of the way.  During the job, we operate safely and efficiently, and we pay our roofers extra just to be polite, kind and thoughtful to our customers and their customers. Sometimes, our proposals are not the cheapest, but that's because we typically address issues up front that other roofers might miss.
JRC understands the most important concept in new construction
At JRC, we specialize in TEAMWORK.  We understand that on the jobsite, knowing our part in the whole project, planning ahead and communicating effectively will benefit the entire team.  We specialize in being collaborative problem solvers, a trait that our GCs truly appreciate.  In addition to unparalleled  expertise on the roof, we have a back office that understands contracting, sends invoices on time and communicates on time and follows the established procedures.   JRC can lay down a roof with the best of them, but what sets us apart is our ability to be a positive and useful teammate when the going gets tough.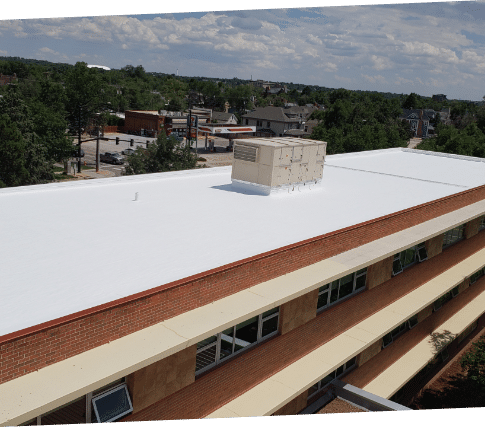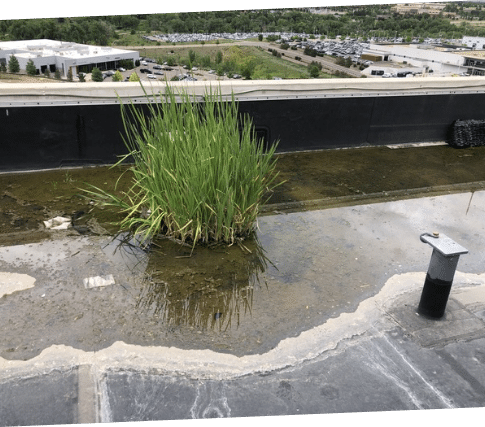 Little problems can become major disasters quickly
Finding the leak quickly is a rare skill.  It takes understanding of buildings, in-depth knowledge of roofing systems and the tenacity to keep looking until the problem is found.  At JRC, we take that a step further and offer solutions to prevent future leaks as well as fix the ones that are dripping now.  We want to help you identify and find the little problems before they get out of hand.
New tenants sometimes mean buildouts that penetrate the roof
From shopping malls to industrial buildings, new tenants mean new equipment, new configurations of floor space and plumbing, and that means new penetrations through the roof.  You need a consistent contractor who knows and understands your existing roof system to flash the new curbs and boot the new pipes keeping your roof in shape, watertight and keeping your existing warranty intact.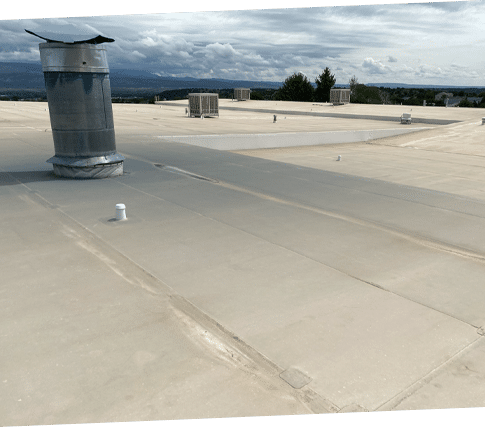 Starting a new construction project or replacing an old roof?
Preventative Roof Care
An apple a day…
What if you didn't have to buy a new roof? At least, not yet. With Preventative Roof Care, we'll keep our finger on the pulse of your roof's health and longevity—providing maintenance and solutions to prolong your roof's life while helping you budget for the next one. Preventative Roof Care includes a bi-yearly Roof Checkup and Roof Care Plan. Roof checkup pricing based on total square footage. Prices start at $250.00 for under 1,000 square feet.
Step 01:
Initial Roof Survey
We send our trained technicians to your roof to give it a thorough examination identifying each roof section and its composition.  They check every square foot, record every deficiency and grade each section with recommendations for what needs fixed and when it needs to be fixed.
Step 02:
On-going Roof Service
We return to your roof twice per year, keeping the clutter away, looking for new problems and tracking known issues.  You get a web portal that tells you exactly what's going on with your roof and gives you the ability to plan and make decisions with ease.